SINGING LESSONS
Lisa Nolan
Mendelstraße 23
13187 Berlin-Pankow

Studio: 030 - 914 220 85
Mobile: 0171 - 785 5975

E-Mail: lisanolan2010@gmail.com
WHAT'S NEW?
Projects – Concerts : Mystics & Skeptiks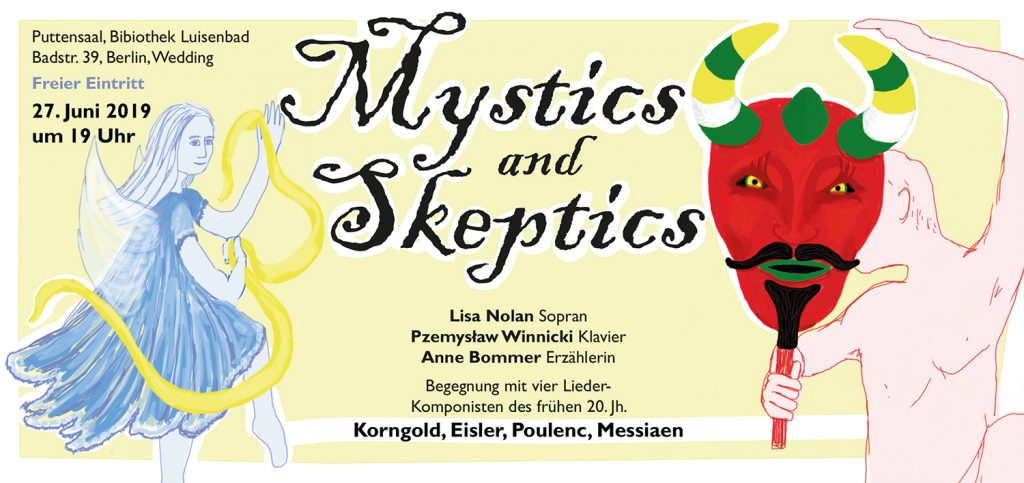 June 2019 – Lied und Lyrik Konzert
Puttensaal, Luisenbaad Bibliotek, Berlin – Wedding
Encounter four song composers of the early 20th century
Korngold, Eisler, Poulenc, Messiaen
One generation, four different creative minds
All born at the turn of the century
All lived through the turmoil of the 2 great wars
They all wrote extraordinary songs
Korngold a romantic, an incurable sensualist.
Eisler a dissenter, a communist proselytiser.
Poulenc urbane avant-gardist, a bourgeois.
Messiaen deeply religious, a lover of nature, reaching for the cosmos.
Distant times now – but their Music compels us to remember.